About Us
Over a Century of Experience. Generations of Excellence... Unlimited Possibilities.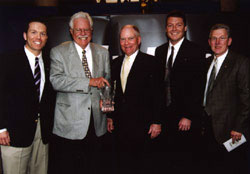 Richmond Baking has a long history of quality products and loyal customers. From our humble beginnings as a neighborhood baker of cookies, breads and cakes, we have grown to a nationwide company with operations in Richmond, IN; and Alma, GA. Today, Richmond Baking offers breading systems, dessert crumbs, ice cream inclusions; and contract baking and packaging services. Our customers range from school cafeterias to national foodservice companies, from corner convenience stores to Fortune 500 corporations. Our products have been enjoyed all over the world – even thousands of miles from the Earth in the NASA space shuttle.
What sets Richmond Baking apart from the rest is our unique combination of experience and innovation. With 100 years of baking experience under our belts, we've tried it all. We are continually perfecting our processes and have a library of over 500-custom formulations at our fingertips. Our products are born from the specific needs and desires of our customers. If you can dream it, we can create it – and we guide you every step of the way to ensure that your final product and your experience with Richmond Baking will keep you coming back again and again.
Vision & Mission
Richmond Baking will provide a safe and positive environment for our team members to consistently meet our customers' specifications and exceed our customers' expectations. Richmond Baking provides high quality and safe food to consumers. We conduct business with integrity, respect and high moral standards demonstrated in our commitment to our customers, our coworkers and our community.
RICHMOND BAKING At-a-Glance
PRODUCTS & CAPABILITIES
Cookies: Rotary Molded, Wire Cut
Crackers: Laminated or Sheeted, Cheese, Oyster, Veggie, Animal, Sesame, Butter, Organic, Trans Fat Free, All Natural
Ice Cream Inclusions
Cheesecake Dessert Crumbs
Candy Inclusions
Breading Systems
Contract Manufacturing
Packaging: Vertical Bags from 1/2 oz to 18 oz, Bag-in-box cartooning, Horizontal Form & Fill Packaging (1,2,3 count pouches), Variety Packs, Nitrogen Flush for longer shelf stability, 100 Calorie Packs, Gable Top Cartons
FACILITIES & EQUIPMENT
100,000-sq.ft. bakery and plant in Richmond, IN (Energy Star Award Certified Bakery)
100,000-sq.ft. bakery and plant in Alma, GA
Certified Hazard Analysis of Critical Control Points (HAACP) Manager, Food Defense Coordinator and SQF Practitioner at each facility
Annual certification of all Cleaning and Sanitation (C&S) Procedures
Nut-Free Facilities
OUR CUSTOMERS:
Fortune 500 corporations
Branded Food Companies
Ice Cream Manufacturers
Cheesecake Manufacturers
Marketing Organizations
Educational Institutions
Retailers: Grocery, Convenience, Vending
Food Processing Companies