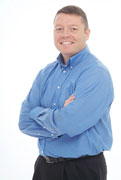 At Richmond Baking our business is governed by three core beliefs: Producing Safe Food, Creating Raving Fan Customers and Honoring Family Pride. We invest time and money to ensure that these concepts permeate our workplace and guide all of our business decisions – big or small. Each of these components is important to any business, but it is the combination of the three that sets Richmond Baking apart.
We began as a small-town bakery, creating bread and cookies for our family and friends. Our community relied upon us to produce food that would keep them healthy and safe. Today our products are eaten all over the world. It is our responsibility to ensure that our food is just as safe today as it would have been for our own families a century ago. We insist that our bakeries are clean and safe and that our quality standards exceed expectations—all the while thinking about the millions of Richmond Baking cookies eaten by school children each year. Why is this so important to us? We're not just family-owned. At Richmond Baking our customers and our consumers are part of the family, too – we feed them the same high-quality products that we feed to our loved ones.
At Richmond Baking we do not strive to have customers who are simply satisfied. We strive to have customers who are raving fans. It is our goal to provide the kind of service excellence that turns a customer into a lifetime customer. How does this type of customer loyalty come about? Contract Manufacturing is about creating and sustaining relationships; those relationships need to work for both parties in order to be successful. For this reason, we do not engage lightly in partnerships with our customers. We examine a customer's needs and desires and compare those with our own products and capabilities to determine our compatibility. If we don't KNOW that we can turn a new customer into a lifetime customer, we cannot in good conscience contract the business. When we do find the right fit, we focus on exceeding all of that customer's expectations—whatever they might be. Richmond Baking wants to do everything we possibly can to make each customer the newest addition to the raving fans list!
Richmond Baking is a family-owned business. Our Family Pride however, is not because of who owns the company, but because of how we treat one another and our customers. Our vision for our company stems from a vision for our own families: creating a safe and positive atmosphere and conducting ourselves with integrity, respect and high moral standards.
Richmond Baking has been continuously led by four generations of the Quigg family since its founding in 1902. We are involved in the daily operations of the company. If an important decision needs to be made, a Quigg will be involved. If there is an issue with a customer, a Quigg will help resolve it. Our leadership is hands-on, because Richmond Baking isn't just a job; it's a family. Along with my father Jim, brother Rob and my wife Felicia, we are very proud to be the nation's oldest family-owned cookie and cracker company. We're proud to be part of that legacy and we are proud to welcome you to the family
But we're not too big to lose sight of what's important. We still provide personal service, we relish the work of earning — and keeping — our customers' trust, and we continue to honor our roots.
You see, this isn't just our job; it's our history. Our great-grandfather founded the Richmond Baking Company in 1902. Along with my father Jim, my brother Rob and my wife Felicia, we are very proud to be the nation's oldest family-owned cookie and cracker company.


Bill Quigg
President
Richmond Baking
Georgia and Indiana